Ministry of Rural Development, Government of India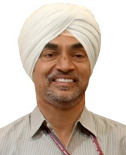 Charanjit Singh is an Indian Forest Service Officer of 1990 Batch – MP Cadre.  He has an extensive experience as a civil servant.  With a Masters of Philosophy in Strategic Studies from Madras University and Master of Science (Zoology) from Kurukshetra University, he is an environmentalist with vast administrative experience in Central Government and State Government functioning.
Apart from serving in the Forest Department in the State of Madhya Pradesh, he has also served as Director in the Department of Land Resources, Government of India from 2008 to 2015.  He served as Joint Secretary, Rural Skills Division, in the Ministry of Rural Development (MoRD) from 2018 to 2020.  In the year 2020, he joined as Joint Secretary, Rural Livelihoods Division in MoRD where he got promoted in the year 2022 as Additional Secretary.
As Additional Secretary, he is presently heading the Rural Livelihood Division in the Ministry of Rural Development, Government of India with the responsibility to execute the vision of the Government to strengthen community institutions under National Rural Livelihood Mission (NRLM), so that they are efficiently managed and attain self-reliance. He has published articles on Land Acquisition, Land Titling, Land Records and Rural Development